Testimonials
"I would highly recommend Sue Chapman Tuition"
Sarah Chislett – May 2019
What The Parents And Children Are Saying
We have built our outstanding reputation on recommendations and love hearing what parents and pupils say once they've worked with us on 11+ tuition and mock exams. Thank you for your valued feedback, from all at Sue Chapman Tuition.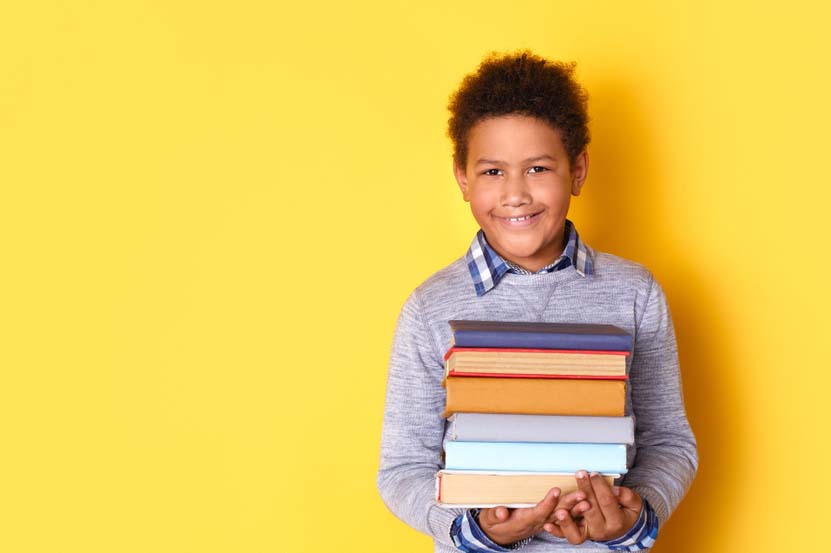 Sue Chapman tutored my son from September 2018 to May 2019 once a week in a small class at Hatton village hall. My son really enjoyed Sue's classes which were always very well organised, calm and thought-through. Sue really understands children and the challenges they can face when having additional work set for them, and adapts her approach appropriately. She fully understood when my son had a little wobble and suggested approaches to get us back on track – which worked very well. My son is thriving at school, largely as a result of the additional tuition he received from Sue. He enjoys being on the 'top table' for maths and this will put him in excellent stead for secondary school. I am hugely grateful for Sue's input and education over the past nine months and wouldn't hesitate to recommend her.
We found the exam a really useful process for identifying the areas that need work and for the recommended resources (not to mention the experience of an exam before the real one). I will definitely use you again when it's my son's turn!
Sue Rees has been incredibly supportive and Ibrahim has gained invaluable confidence within the classroom environment. Ibrahim really enjoyed her tutoring lessons, found her very approachable and thought the maths was fun.
I would highly recommend Sue Chapman tuition. My son, currently in Year 6, attended Sue's weekly sessions whilst in year 5 – it helped him both at school and with preparing for his 11 plus test. Sue's approach to the children is very personable and she keeps parents informed to enable them to help and support their child. My daughter is eager to start in September seeing what a positive experience her big brother had!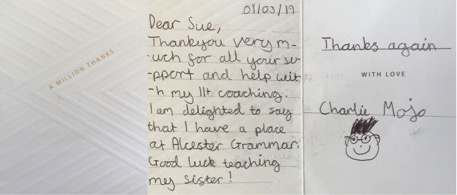 Charlie Morrison-Jones
March 2019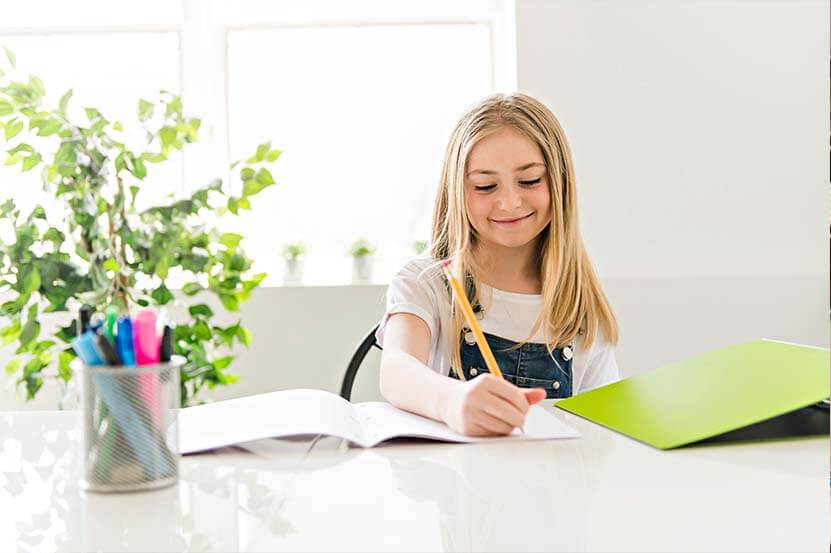 Excellent prep for the rollercoaster ride that is the 11+. My reluctant 9 year old always came out of lessons with a spring in his step. Thank you Sue!
Sue has a brilliant understanding of the 11+ exam & its many requirements. Expertly preparing our children for the exam throughout the year by tutoring in small groups with tailored work for their needs, building confidence and learning lifelong exam techniques along with looking after the many varied questions us parents have about the whole confusing 11+ process. Invaluable support along the whole year.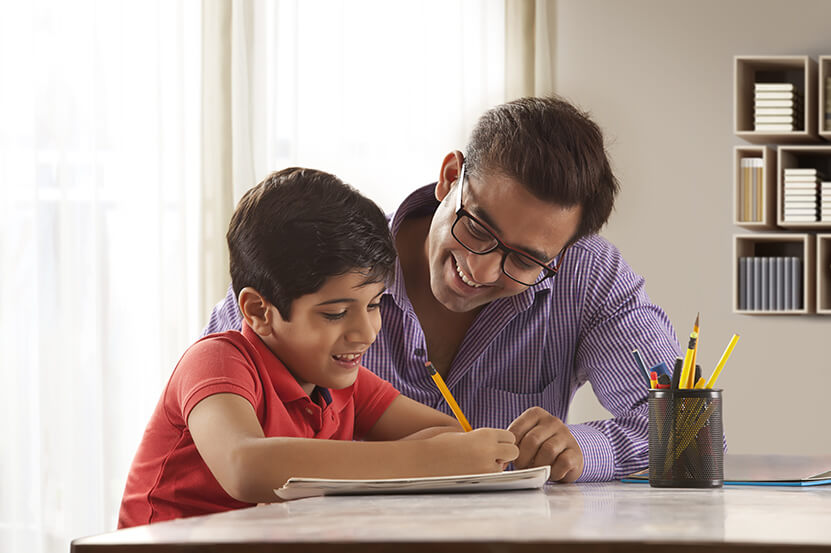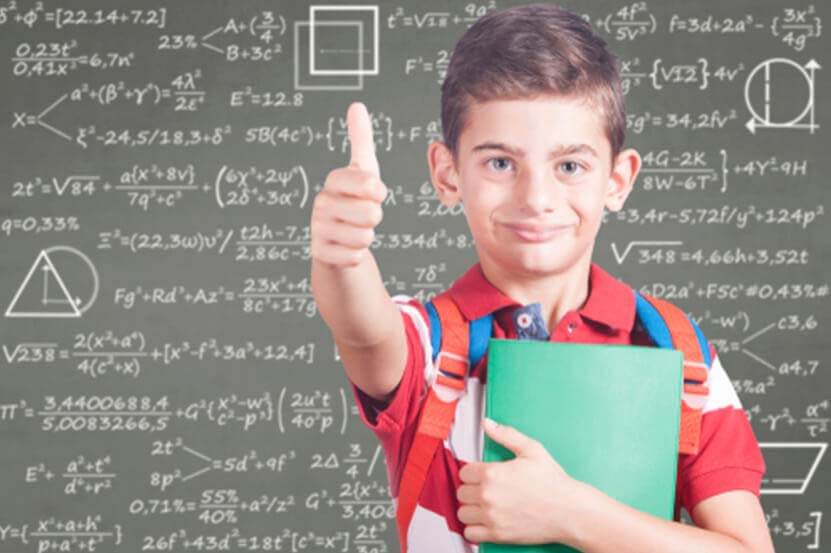 With the guidance and support of both Sue Chapman and Sue Rees my daughter managed to gain a place at Stratford Girls Grammar School.  Sue's erudite knowledge in the preparation of pupils for the 11+ examination is second to none.  Highly recommended.
Sue prepared my daughter thoroughly for the rigours of the 11+, and most importantly, taught within a supportive and positive learning environment. My daughter really looked forward to the sessions and Sue would always go through anything she found difficult and reinforce key learning points. She significantly helped to build my daughter's confidence in all aspects of herself as a learner, so that by the time of the 11+, my daughter had a real sense of self-belief. Sue ensures her students are equipped with the exam skills, the knowledge and plenty of practice to be able to do their very best on the day. We were thrilled that my daughter performed so well and secured a place at SGGS. We couldn't have done it without Sue's huge input!
The tuition my eldest son received from Sue Chapman and Sue Rees this past year has been invaluable, his confidence has soared and he feels totally prepared for his move to secondary school now. The format for Sue's lessons works so well and the homework is really well laid out and easily managed even if your child has a busy after school schedule as all the tasks set take no more than 20 minutes each so can be fit in between other things over the course of the week. I can't thank Sue and Sue enough and we are really looking forward to our younger son joining the classes next year too.
Sue Chapman is the go-to tutor for 11+. She is very experienced, has up to the minute information and tailors her tuition to achieve the highest results. Children respond well to her kind and encouraging manner and are motivated to keep on trying. We would not have achieved our successful grammar School places without her help, I cannot recommend her highly enough.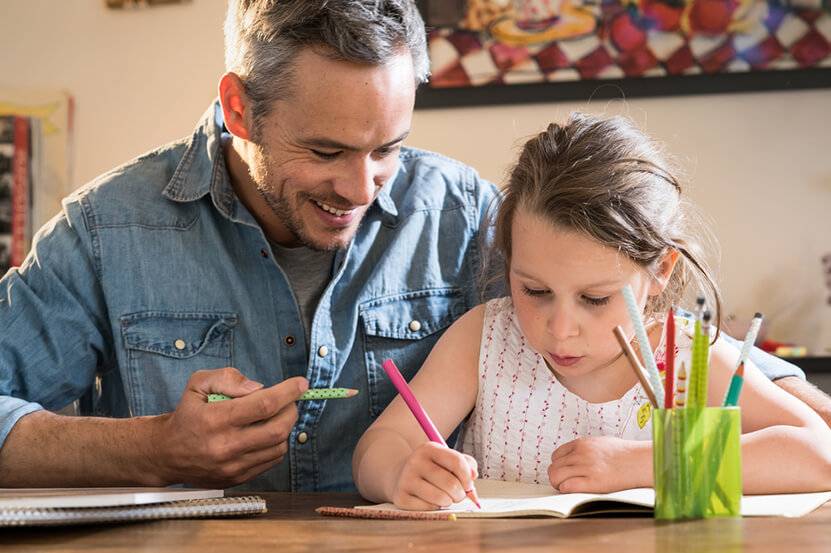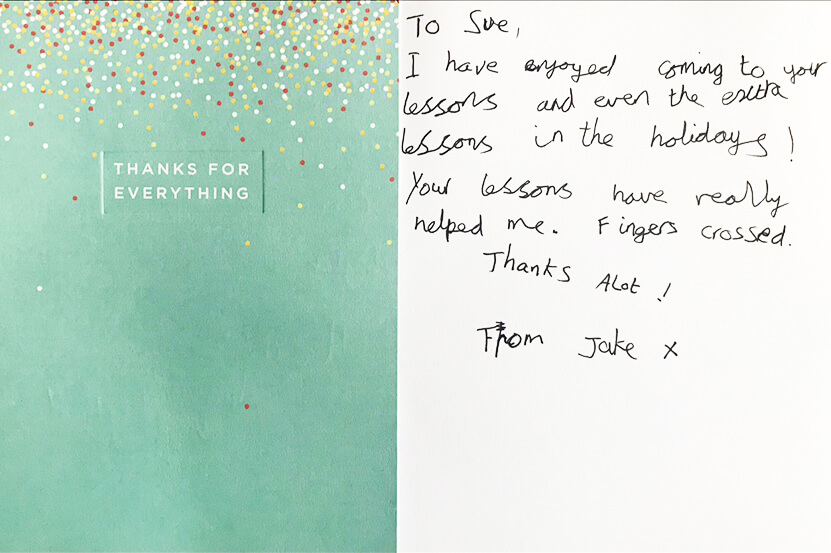 I cannot recommend Sue's tuition highly enough. She challenges children but also really cares for their wellbeing, getting the tricky tightrope of 11+ preparation just right. Our son absolutely thrived from Sue's classes, his school work really picked up too. Preparing your child for exams can be a daunting process but we are really glad we chose Sue.
Sue is an experienced 11+ teacher and has taught two of my daughters (one more to go!). She instilled an enthusiasm to learn and from a parent perspective the 11+ trauma is so much easier if you follow her programme. Thank you so much Sue.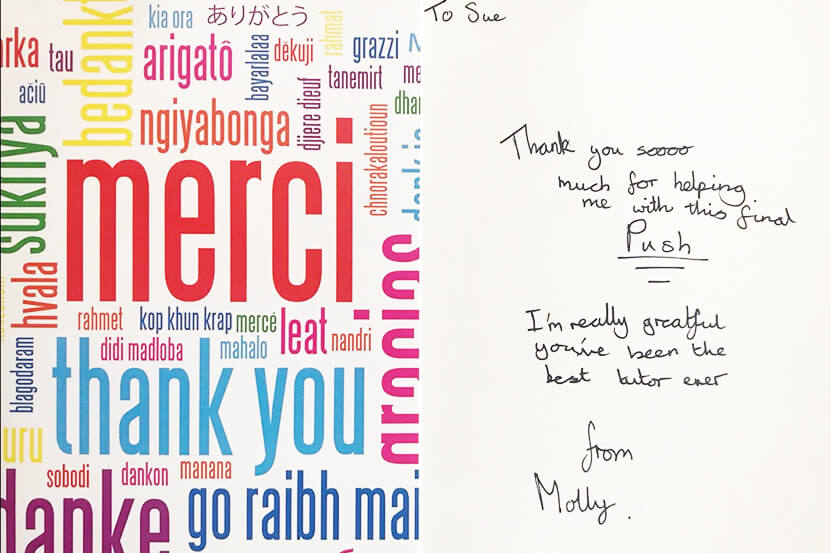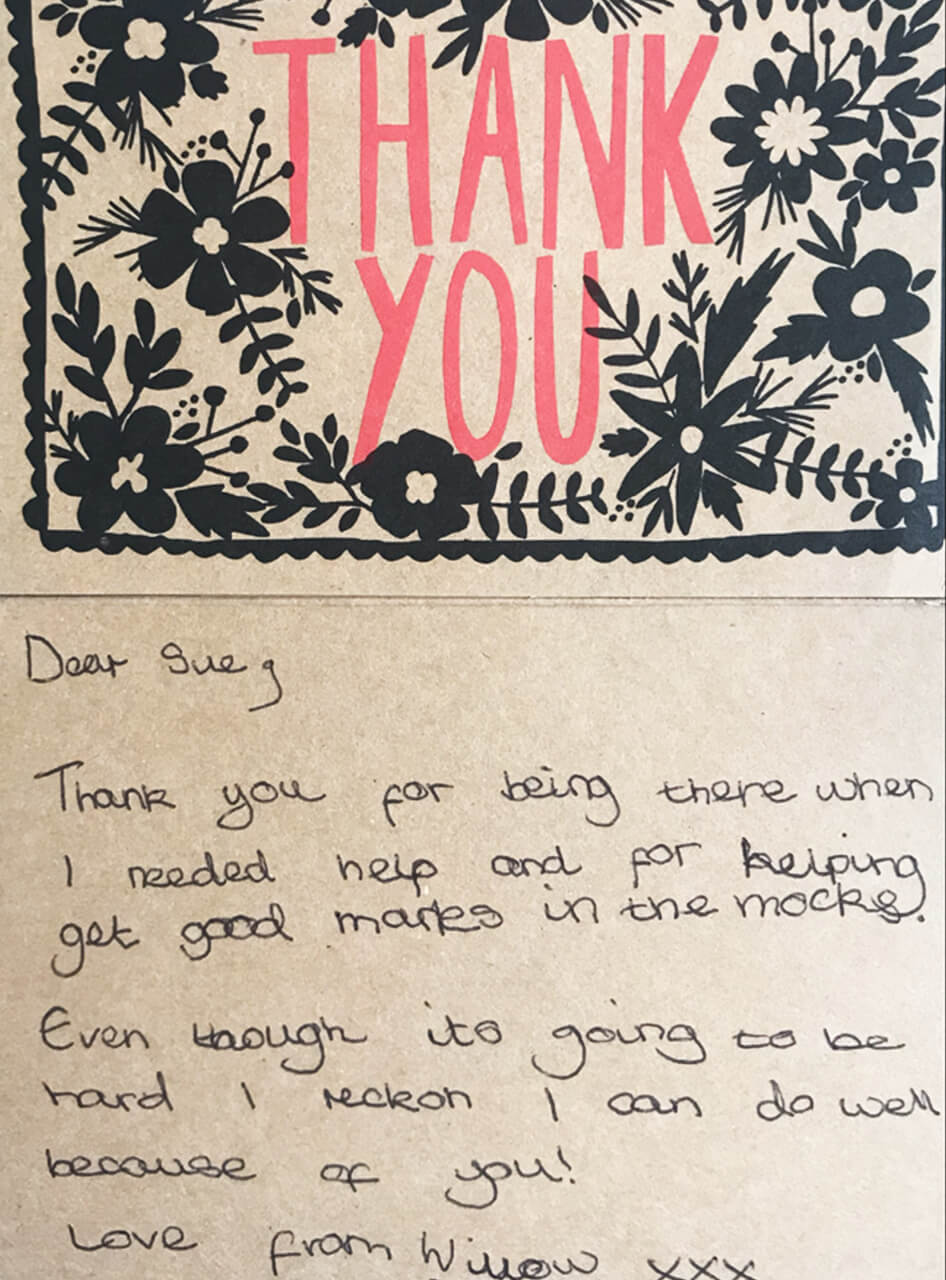 My name is Rohan Rajathurai. I started my 11+ exam tutoring right at the start of year 5 – which gave me 10 months of weekly learning (that took me to July). Furthermore, we had workbooks and lessons at certain points in the Summer Holidays. More importantly, the 11+ questions were not incredibly difficult, in fact it is more about understanding the questions. Sue Chapman's tutoring showed me the full range of questions and taught me how to deal with them.  Finally, we took many mock exams which were under test conditions and showed us how to time each question for maximum efficiency.
Also, it opened to us what we needed to work on and what we were comfortable with. In conclusion, Sue Chapman's tutoring is incredible and necessary with the competition around. The lessons were fun and friendly and now that I have finished them, I am missing the working environment. I would recommend tutoring from Sue to anyone wanting to take the 11+ exam.
I liked going to tutoring at Sue Chapman because the work was challenging but achievable, and it helped me get into the Grammar School I wanted. Sue is also a very nice lady to be working with and she helps everyone out in the group.
The practice exams were totally invaluable. These were proper mock exams in a school hall and provided valuable experience. They allowed my daughter to get acquainted with the exam set up well ahead of time and to get over any fear of the exam itself. The feedback from Sue was so detailed, we could focus on the areas needed during the summer. As a result, my daughter was offered a place at King's High School for Girls back in November as well as SGGS.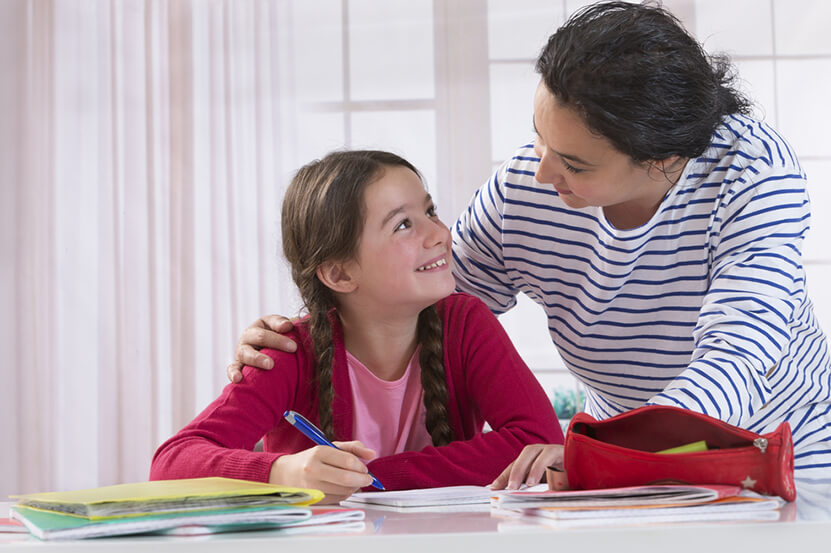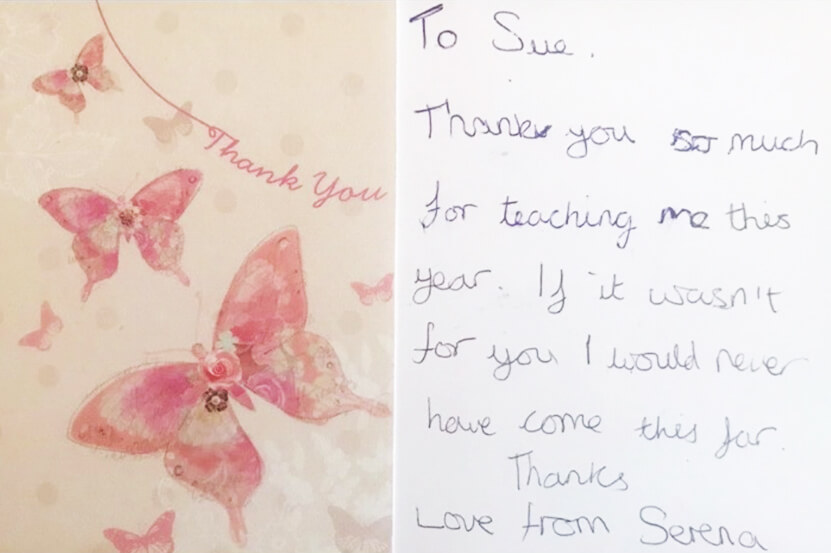 My daughter thoroughly enjoyed her time doing 11+ tuition with Sue Chapman. She was always keen to attend her lessons and enjoyed the opportunity to learn in a small group. The outstanding level of tuition she received contributed highly to my daughter's accomplishment. With mock exams, assessments throughout the year and equipped with the techniques learnt from lessons, it helped prepare for the actual exam with confidence. I can proudly say that my daughter has been offered a place at her first choice Grammar School. My younger daughter is already booked tutoring with Sue this September and I have full confidence will be successful at the 11+ exam. I would highly recommend Sue to parents with children preparing for the 11+ entrance exam. Thank you very much for all her help and guidance.   
It was clear from the first few weeks that Sue's understanding of children as individuals and what motivates them was having a positive impact on George's learning. He really enjoyed the classes and he could see his own improvement. George's confidence grew throughout the year and furthermore his confidence has continued to build into Year 6 where he is performing at a higher level than in years gone by. The mock exams were invaluable and really made a difference in preparing for the test itself and reducing some of that exam-day stress. Sue also provided guidance for parents on the 11+ procedures and results, which was very helpful as it's by no means an intuitive process. Thanks to Sue's tuition George exceeded our expectations, achieved a fabulous score in the 11+ and has now been offered a place at KES.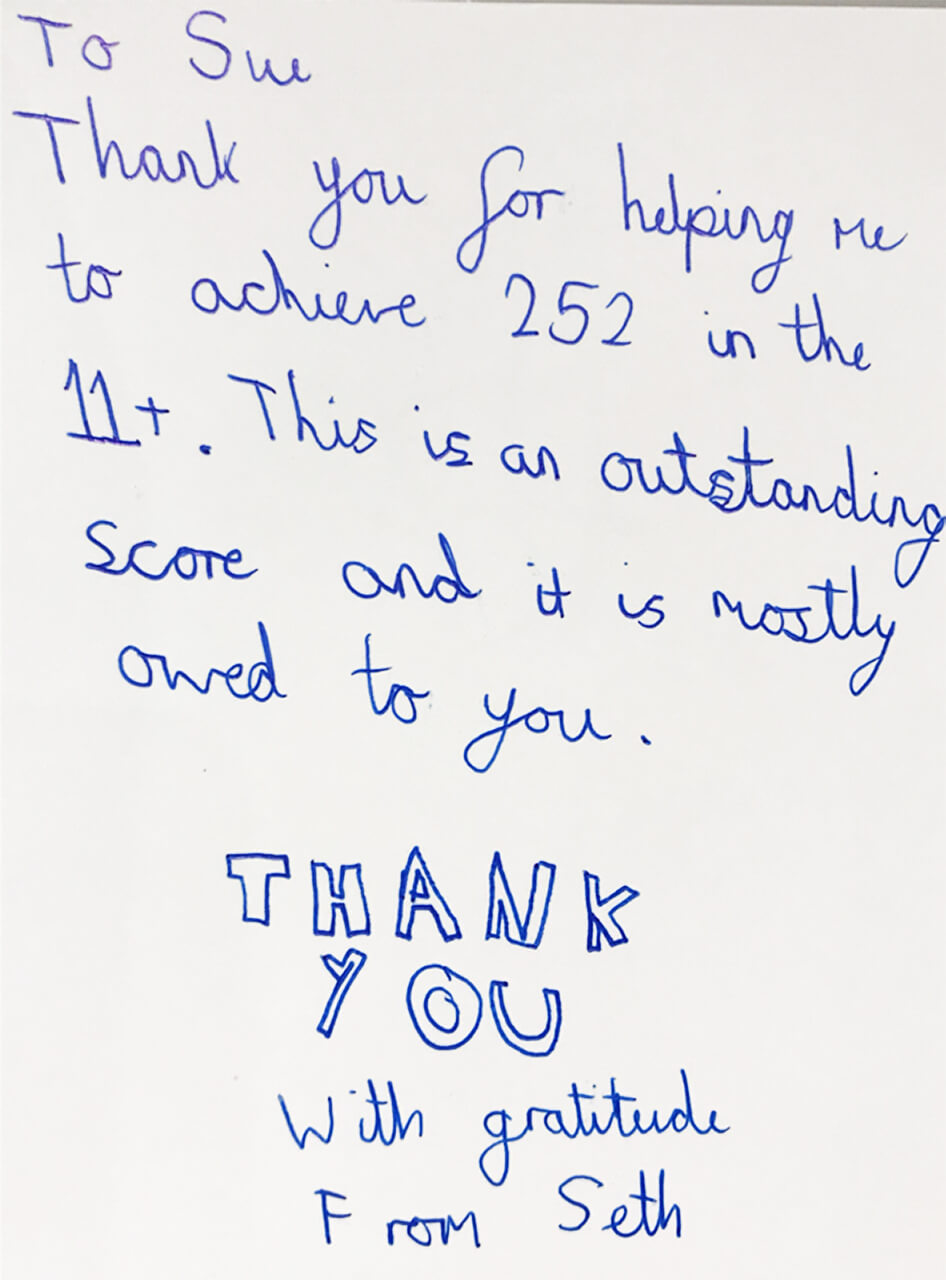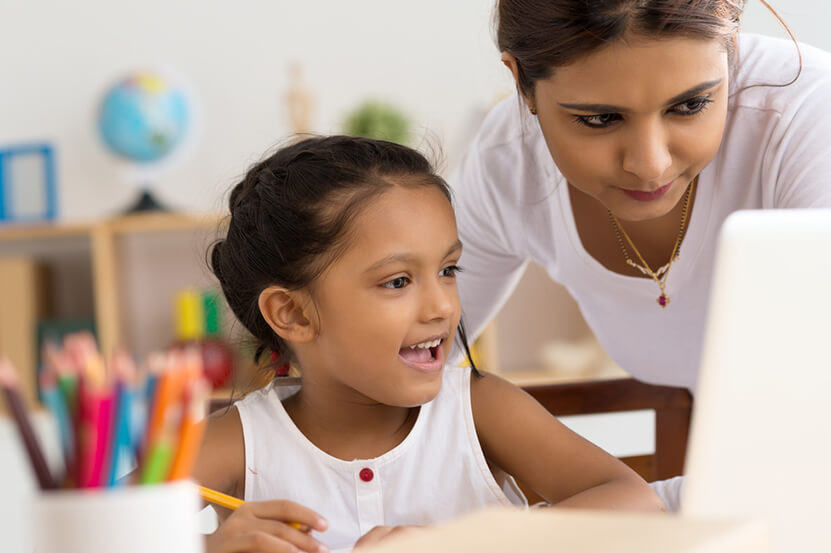 My daughter thoroughly enjoyed going to Sue Rees tutor sessions each week. She has a lovely way with the children, motivating and encouraging them the whole time. Keep up the great work!
Further Testimonials from Previous Years
Thanks Sue – you have been so good, Alice has enjoyed every lesson and I appreciate you boosting her confidence because it is so key when it comes to learning and also sitting through the tests.
Sue has successfully tutored both our children though the 11+ exam now. She prepared them both to the best of their abilities through her thorough knowledge of the exam and process, tailored group sessions, well-structured homework and regular mock tests. Both our children enjoyed her sessions and found her friendly and approachable. For the parents she is always willing to provide honest feedback and advice at every stage of the process.
When I embarked upon 11+ tutoring I had no expectation that my son would be of Grammar School standard. Indeed, quite the opposite and I started tutoring in order to help him with speed and exam technique with a view to sit entrance examinations to an Independent School.  Right from the start Sue assesses her tutees in a very clear and transparent way. This continues throughout the year. Not only does it rank your child within her particular cohort of children but it compares them to previous cohorts with the knowledge of whether or not they achieved Grammar School places. This was hugely helpful and meant that we had a very clear idea right from the start whether our son was Grammar school material or not. I was also concerned about having extra homework to do given that we already had some set from school plus sport and a good deal of music practice! I need not have worried. We had around 40-50 minutes a week which was easily completed in one sitting on a Saturday morning.  Over the summer we just adopted a little and often policy. Sue is so clear in showing you the areas your child needs to work on and what materials to use that it is very easy to adopt an effective working method that does not take over your life. She allowed us to see that our son was of Grammar School Standard and indeed he got a place in his first choice of Grammar school. If it had not been for Sue, I probably would never have even sat him for the 11+.
I approached Sue because I had heard from others how difficult the eleven plus could be and felt my daughter would benefit from some preparation prior to taking it. Sue was very supportive throughout the time my daughter was working with her, and very knowledgeable regarding the exam itself. My daughter got on very well with Sue and enjoyed going to her classes; not only did she pass the eleven plus and got a place at our first choice of school, but the tutoring also significantly improved my daughter's performance in maths and her attitude towards doing it. We found the whole experience very rewarding; I have already booked my younger daughter in for tutoring with Sue, and I wouldn't hesitate to recommend her services to other parents.
Sue's excellent 11+ classes helped my daughter to get a place at grammar school. She was extremely thorough, kept us up to date with current practices and provided top quality advice and guidance throughout. Her mock exams gave my daughter the confidence to perform well in the formal exam environment. Highly recommended.
Sue Chapman offered a well-structured and supportive setting for my son; her teaching experience was invaluable getting him, and me, through the 11+ experience. She has a wonderful attitude towards the children, which created a mutually respectful learning environment.  Very successful all round!
Sue balances the group tutoring and treating each child as an individual amazingly well.  She helped to motivate our daughter to work more effectively, believe in her own abilities and enjoy the learning!
Our son James has just been offered a place at Alcester Grammar School and we are so delighted. He started Sue's 11+ group tuition sessions at the start of year 5 and although he is quite shy, he very much enjoyed his tutorials, and made some new friends. We all found Sue's patience, calm and vast experience a real reassurance. By the time the exam date came around James felt thoroughly prepared and remarkably calm! I would heartily recommend Sue for 11+ preparation, and we have already signed our next child up to start this coming September.
My daughter looked forward to her weekly tuition sessions, finding them stimulating and enjoyable.  Sue's clear, organised and helpful approach to the subject areas enabled my daughter to learn new skills and to gain confidence tackling unfamiliar, challenging material. The year was well structured – extending and expanding skills in literacy and numeracy – while also offering practical, tactical exam advice. Sue offers excellent training for the 11 plus and, equally importantly, enhances education across year 5.
Sue's lessons were invaluable for helping Thomas with the 11+ preparation. He really enjoyed the group lessons and Sue prepared the children very well for the test, covering all the subjects in depth. Having the mock tests really helped as when Thomas sat the 11+ exam he wasn't fazed at all and knew what to expect. We were delighted with Thomas' results and the whole experience with Sue was a positive one.
The decision to embark upon 11 plus tutoring is a tough one when you appreciate the time and commitment required by both child and parents.  However, our decision to engage Sue Chapman was easy. She came very highly recommended from several families and we were delighted with our decision from the outset. In addition to being a creative and intuitive teacher of children, Sue communicates clearly and honestly with parents. Our daughter, whilst finding the homework tough going, always left Sue's classroom with a smile, saying that she had had fun!
From a parents' perspective Sue tempered what can be a brutal, results driven process with compassion and a genuine kindness toward our daughter, who secured a grammar school place…. thanks Sue!  Any child in need of additional academic support … 11 plus or not, would benefit from Sue's academic input and infectious enthusiasm.
Sue has a tailor-made approach to the needs of each individual child. She built our daughter's confidence up step by step by focusing on areas that she needed to improve. We could contact her anytime we needed to ask for her advice, even down to techniques about calming her down prior to the test. Our daughter has got into her first-choice grammar school and Sue played an important role in her future. Thank you Sue 🙂
The regular feedback was insightful; Sue is truly approachable and very happy to chat about progress in a professional and caring manner. Sue's teaching supports the school curriculum, the group setting enables relaxed learning and we found the focus on techniques invaluable for the 11+.  It is with pride our daughter accepted her grammar school offer and she is excited about starting her new school. We are very grateful to Sue for her help.
We found Sue's eleven tuition invaluable for our son. She was particularly good at assessing his strengths and weaknesses and setting appropriate work for him. The mock tests in exam conditions gave him good exam practice, which meant on the day of his exam he was fully prepared. When our son started his eleven plus tuition, he was strong at Maths but after a year he was excellent in all three areas. He really benefited from the working in a small group size, getting lots of one to one help but also having healthy competition to encourage him along. We would thoroughly recommend Sue Chapman as a tutor.
We were not sure if our son had the academic skills to successfully complete the 11+ but we enrolled him in Sue's class prepared to withdraw him if the work became overwhelming. Despite some tough challenges, he managed to handle the work and enjoyed the classes. This was due to Sue's constant encouragement and excellent teaching methods.  He has just been offered a place in a Grammar School. We are very grateful to Sue for making this possible.
Important Note
We provide tuition in Hatton and Shrewley for children from Warwick, Leamington Spa, Kenilworth, Stratford Upon Avon  and the surrounding villages.